One Lucky S.o.B.
---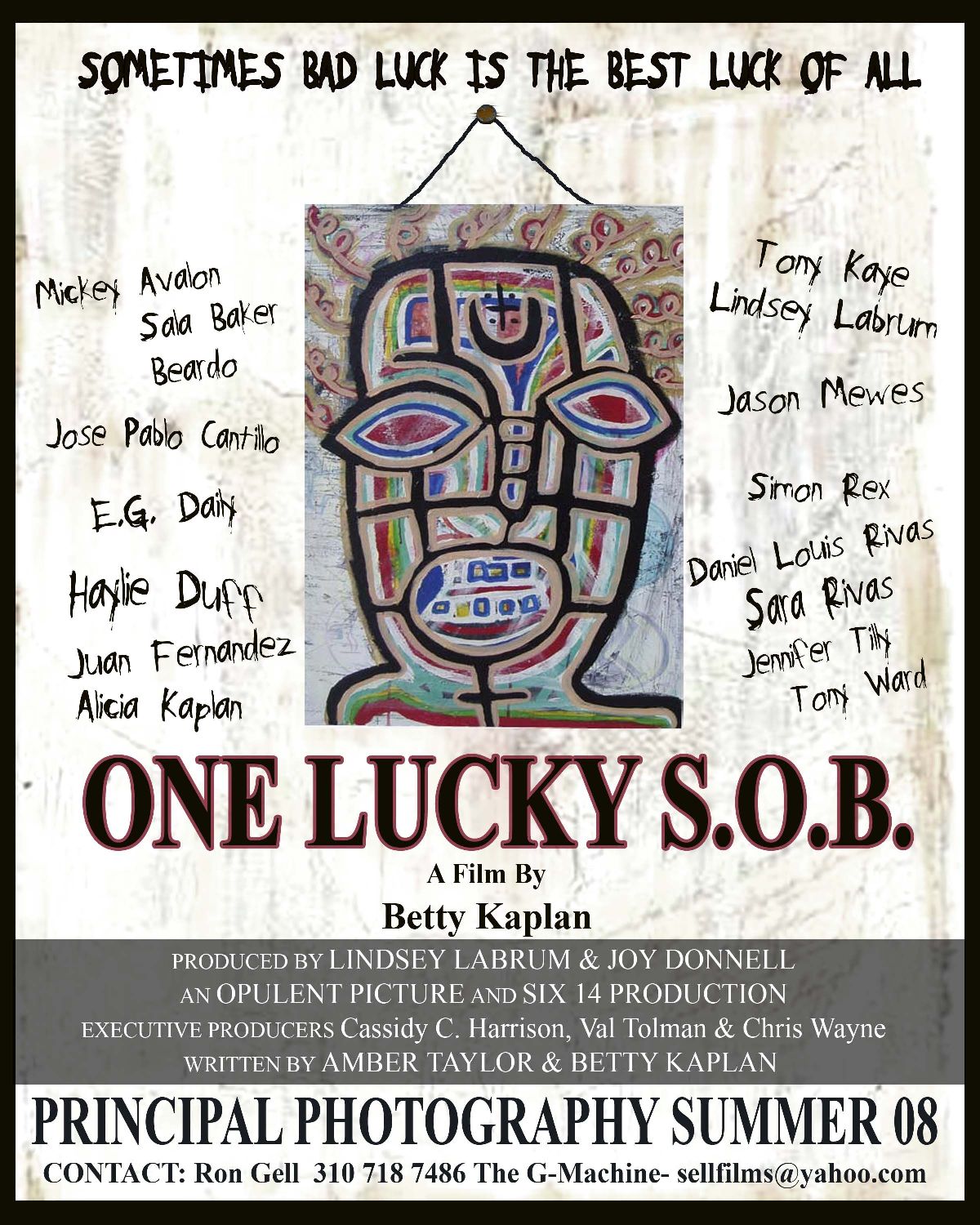 by Betty Kaplan, writer, director
Requiem for a Dream meets Napoleon Dynamite
A dramatic American Comedy
This film is set in Seattle and Los Angeles. It is about a young guy who writes poetry and suffers a series of mishaps, among them, losing his sister in an overdose, slitting his wrists and being robbed of one of his poems while in a rehab by a Rock singer in the next bed. His poem is used in a big show and then in a video that brings the cops back to his doorstep. Then, he is hit by a bus.

Our protagonist is pursued by his dead sister as he ends up beating the system, cleaning up and finally burying her. Each mishap opens one more lucky door! Luck can come in many flavors and even turn unlucky mishaps into lucky ones. It is only at the end that we realize it is all, but a dream.
STATUS: Currently filming.
---
CAST
Sara Rivas – Nikki
Daniel Louis Rivas – Jimmy
Tony Ward – Jared
Haylie Duff – Ophelia
Jason Mewes – Scotland (reading)
Jennifer Tilly – Nurse Sara
Simon Rex as Plak's new singer
Mickey Avalon – Dairy Mart Cashier
Andre Legacy – Pot Smoker #1
Beardo – Pot Smoker #2
Jose Pablo Cantillo – José
Tony Kaye – The Russian Taxi Driver
Sala Baker – The Bouncer
E.G. Daily – Pregnant Cop E.G. Glock
Mom – Alicia Kaplan
Omar Miller – Officer Sniper
Victor Webster – Juan José Domínguez de Vergara
Little Larry – Officer Little
Mickey Post – Desk Clerk
Jess Parker – Candy
Luscious – Juan Fernández
---
DIRECTOR
Betty Kaplan
Almost a Women (Peabody Award)
Of Love and Shadows (Miramax)
Dona Barbara (Universal)
Law and Order C.I (The Big Brother 2008)
PRODUCERS
Lindsey Labrum
Feast of the Assumption: The Otero Family Murders
Cutting Room
F8
Joy Donnell
Forever
CINEMATOGRAPHY
Darren Rydstrom
Fraud Angels (2008 Telly for Best Cinematography)
FSI: Fraud Scheme Investigators (7 Telly and 2007 Golden Aurora for
Best Cinematography for 2007)
PRODUCTION DESIGN
Patricia Klawonn
Get Smart
Big Momma's House 3
The longest Yard
Vanilla Sky
The Terminal
The Day After Tomorrow
COSTUME
Simone Jasmin Sirbaugh
Feature - All ages Night
Music Video - Keaton Simons, Seri Tankian
Commercials - Intel, MRI
BUDGET
900,000 35mm, Including a 5% fee
709,000 HD digital, Including a 5% fee
Filmed on location in Los Angeles
---
Click here for details on the filming of: One Lucky Son of a Bitch
---